reduce, reuse & recycle
Our Packaging
Playing a part in battling waste and pollution issues is the forefront in many people's minds-especially when single use plastics are a huge contributing factor, but small changes can make a big difference. Barely a day goes by that we turn on our TV's or look to our mobile devices and to see more disturbing evidence relating to the impact of our wasteful, throwaway lifestyles. As a nation we have finally realised it's time to change with a huge shift towards sustainable packaging options. We want to see less plastic on our shelves and non-recyclable materials become a thing of the past.
When we began designing our packaging that's exactly what we kept in mind. Our packaging is robust and durable and most importantly, easily recyclable if it's past using after one too many falls out of your rucksack! You'll find plastic in some of our packaging-but it Is only used when absolutely nothing else outweighs its benefits, and the type used is as easily recycled as possible.
For our Dry Shampoo+ we urge customers to cut down on their plastic use as much as possible. On first purchase you'll need a plastic shaker lid. This shaker is robust and re-usable meaning all further purchases will come with only an aluminium screw lid. We tried a metal shaker lid, but it wasn't strong enough for the rough-and-tumble of outdoor life. We are developing refill options so the robust packaging can be utilised again, so we can reduce our packaging footprint even further.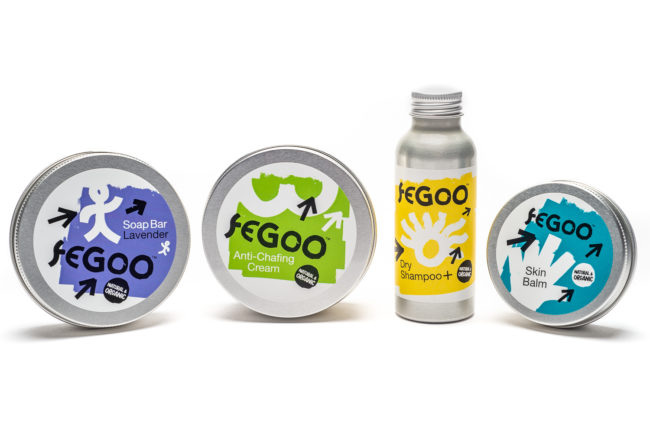 PRODUCT PACKAGING
So, as we've mentioned we do the best we can to cut out plastic from our packaging. Instead, we use aluminium for our containers, and, our ultimate aim is to produce our packaging from recycled materials which will dramatically reduce our footprint. We're working on it and hope to find a solution soon! But for now, why do we use aluminium? Aluminium can be recycled repeatedly and RecycleNow says, "Getting the aluminium recycling habit is one of the best things we can do for the environment."
How is it recycled? RecycleNow says: "aluminium cans are shredded, removing any coloured coating, and then melted in a huge furnace. The molten metal is poured into new moulds to create around 1.5 million cans."
Aluminium is all around us-in buildings, transport and other industries, as well as packaging. Aluminium is the most cost-effective material to recycle, because of the huge energy savings – up to 95 per cent. Recycling is part of the normal lifecycle for large industrial products-did you know that 75% of all the aluminium ever made is still in circulation!
The plastic dispenser lid for the Dry Shampoo+ is made from Polypropylene (PP), a recyclable polyolefin. You'll often find it in soup pots, margarine tubs, most bottle tops, waterproof clothing and carrier bags. With a high melting point, PP plastics are also great at stopping the transfer of moisture and are virtually invincible in the face of substances like acids and solvents. Polypropylene can be recycled into brooms, brushes, garden rakes and plastic trays-we just need to be recycling more of it!
It's rare that you can't recycle PP via your normal plastic recycling bin-and that's why we chose it-so it's simple for you to recycle it after use. If your Local Authority recycles your plastic straws, take-away tubs and ketchup bottles then they'll recycle the dispenser lid.
POSTAL PACKAGING
Our postal packaging is just as important as the products if not more so! As it is the bit that is instantly discarded once you've opened your package.  We have thought very hard about this so our packing boxes are fully recyclable and bio-degradable. We are using brown paper packing tape on the boxes, instead of Sellotape.
To protect the products in your parcel, we are using corn starch packing chips, these can be composted at home or dissolved in your kitchen sink, with no impact on the environment.